I must admit, we're very excited to have this release out the door. Ever since our team started working on SalesCompete over a year ago one of our goals had always been to bring an extra level of simplicity to "gamifying" the sales experience inside Slack. Now, for the first time I've ever seen it (and probably you as well), you can create sales challenges inside of Slack that work off of the metrics and data stored in your Outreach, Salesloft or HubSpot accounts.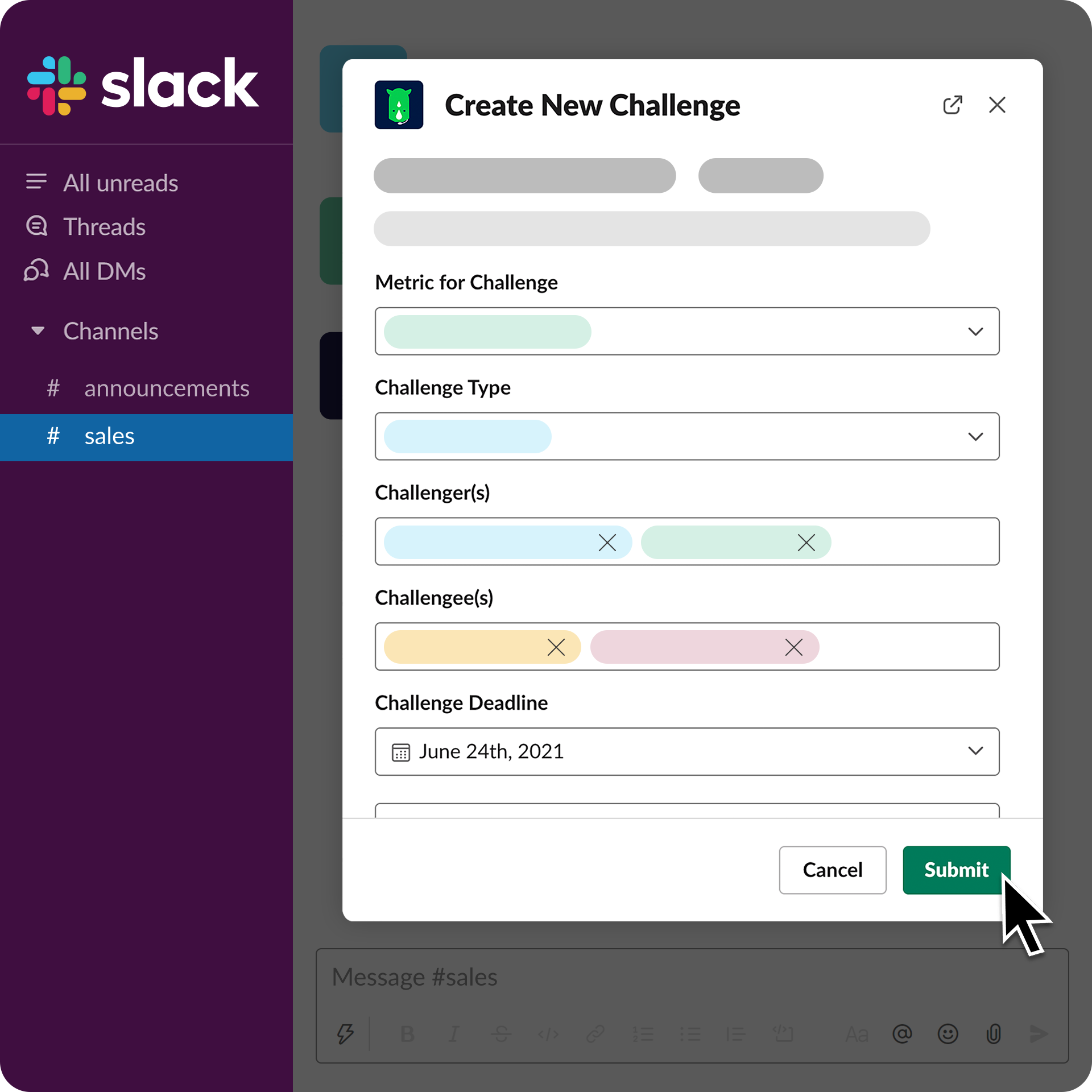 So... how does it all work?
To get started, make sure you've installed CompeteBot for your Slack team. After you've installed the bot and have the basics setup, just scroll down to the "challenges" section (see below). You can also setup a new challenge by typing "/challenge" into any public Slack channel.

Next, click "create challenge" (if you typed in "/challenge", you can skip this step). This will bring up a modal similar to the one near the top of this article. Here is where you set everything up – after you complete the form inside this modal, you are quite literally done. Most of the form is fairly straightforward, but I do want to bring a couple of interesting options to your attention.
Game Modes ("Challenge Type")
There exist two different game modes:
Cumulative (Team) Score – this means that for whatever metric you choose, the teams you've setup as a whole (challengers and challengees) are being pitted against one another.
Top (Individual) Score – this option means that the individual with the highest score (for the selected metric) is the winner.
Challenge Prize
The challenge prize (totally optional) might sound fairly mundane, but there is a special treat here if you read the copy close enough. Either type in a single prize or type in multiple prizes by separating them with a comma (for example – $25 via venmo, day off of your choice, dinner on Mark). When you do this, it actually brings up a virtual wheel for the winning sales rep to spin (once the challenge winner is declared, that is). When they spin the wheel, their prize is randomly selected (pro tip: this also works for meeting bounties, goals, and power hours).    
#Winning
At this point you're most likely a challenges master. You've whispered into the ears of the sales development Gods and they've answered your team appreciation prayers. Your team loves you and you're pretty much their hero for bringing the fun back into their otherwise monotonous cold-calling, cold-emailing, and cold-messaging lives.
🎬  To learn (and watch) more about how to setup challenges for your team, visit our getting started guide.