This month we have another great round of new product features and improvements to the Slack CompeteBot. Read more about each feature below!
🗺 Onboarding Guide & Recommended Features
We heard from some of our users that it would be helpful to offer a concise way to understand the myriad features that the CompeteBot has, so we made a quick onboarding guide at the top of the home tab. Clicking on each of the three buttons gives you a quick idea of how to best utilize the bot to achieve that specific topic.

📈 Week-over-Week % Change Metrics on Daily Sales Recaps
Probably our most ubiquitous feature, the Daily Sales Recap is great at giving teams a quick view of metrics and leaderboards for the week to date, but it has not (to date) shown a view of how your team is trending week over week. We modified the version of the recap that gets sent on Monday mornings to include a quick overview of how the team did last week compared to the prior week. This gives you an at a glance idea of where to focus your team for the week ahead!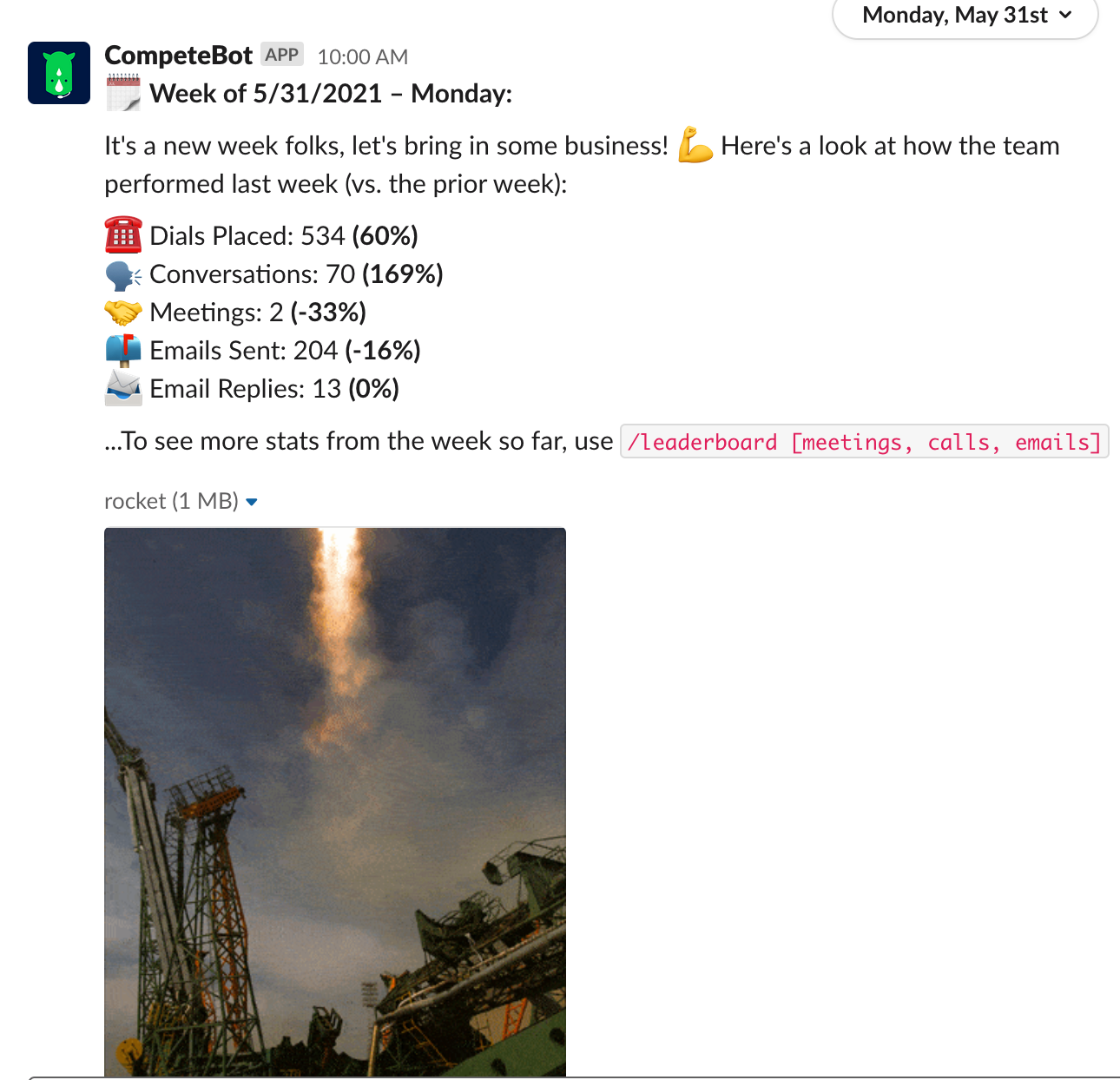 💰 Account Tags with Meeting Bounties
The meeting bounty feature to date has been used to incentivize sales reps (with a prize) to target specific accounts by name. We've augmented this existing feature to include an update where you can type in one or more tags. This allows you to offer an incentive on a whole group of accounts that have one of those tags.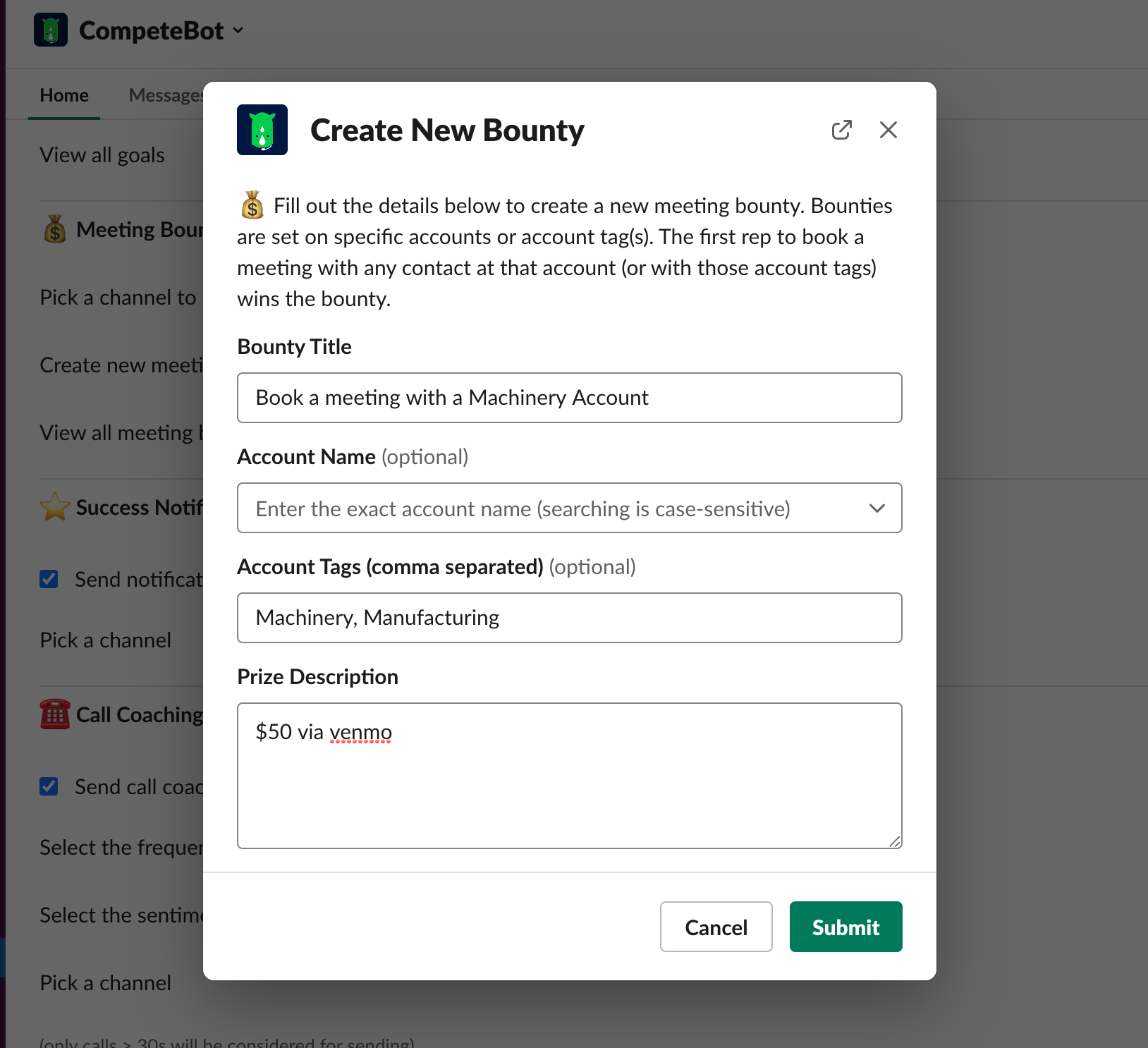 ⭕️ Spin the Wheel Prize
Probably the most oft-requested feature, spin the wheel is finally here! The wheel can be used on any feature today inside the bot that offer you the ability to set a prize – goals, meeting bounties, and power hours. Anywhere you have the option to type in a prize, just list (comma-separated) several options instead of one. When the goal is hit, meeting bounty won, or power hour ends – the rep will be shown a wheel (similar to the one below) where they then receive the option to click and "spin the wheel." After spinning the wheel a prize will be presented to the user who clicked the button!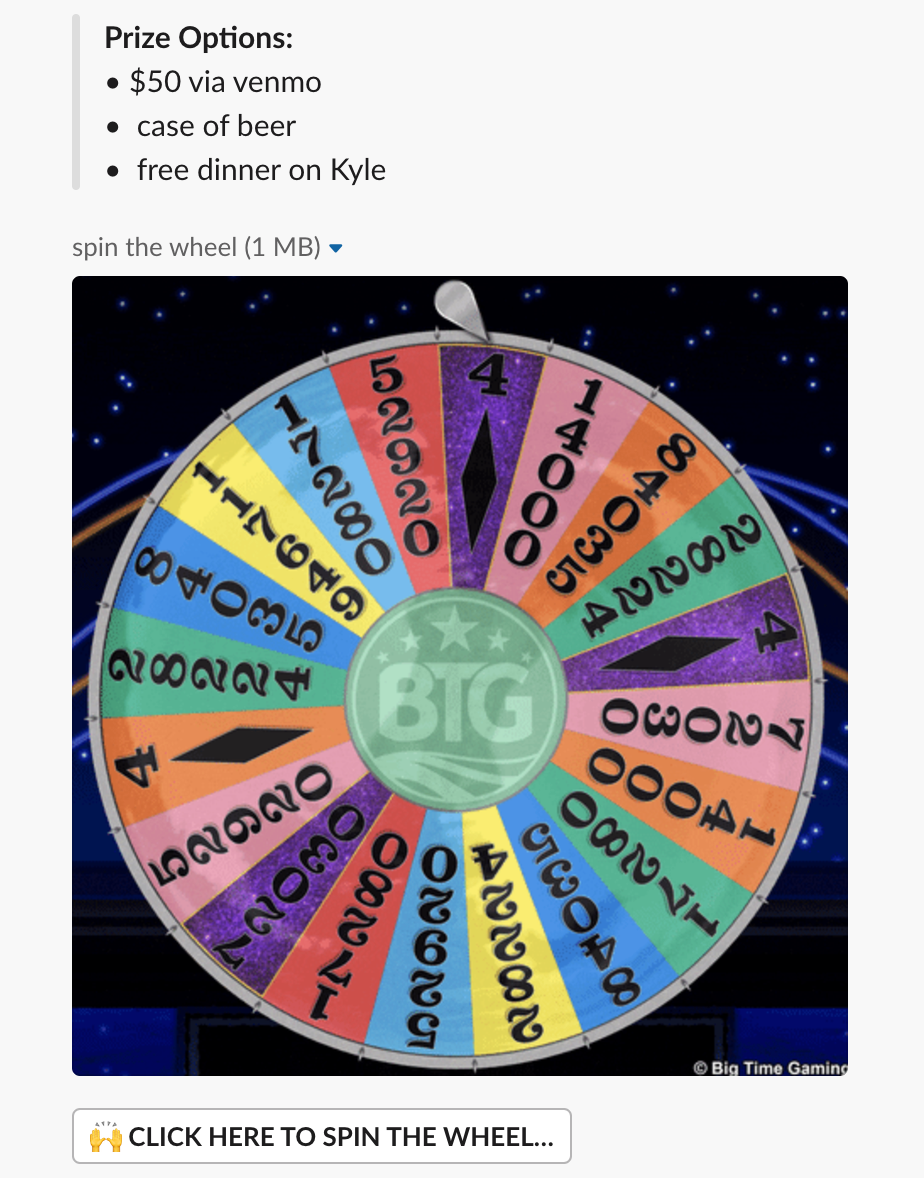 ---
Other Improvements & Tweaks:
Ability to send the daily sales message to multiple channels
Added crowns to leaders in all of the slash commands and graphs
Issue with double success notifications fixed
On success recordings slack messages now either say "View in Salesloft" or "View in Outreach" (when necessary)
Optimizations for the email leaderboard slash command when using Outreach
---
Those are all of the updates for June. We look forward to sharing the next round of updates with you all very soon.
~ SalesCompete Team