If you've ever been in sales for even 24 hours you know that to do well you must be self-driven, money-hungry, and above all else... competitive. Below we explore some of the top tools on the market today to increase the level of competition and engagement amongst the sales reps on your team. Whether you're looking for your team to start crushing automated power hours, tracking weekly goals on the fly, or securing meeting bounties you can bet there is a technology out there already that can help you accomplish your sales gamification and leaderboard goals. Let's dive right in!
1. Ambition
Ambition is probably the best known software tool out there for enterprise sales team gamification. They pretty much cover the gamut when it comes to things you could even remotely hope to cover in regards to sales gamification, sales leaderboards, and sales coaching tools. The best part? They integrate with most of the tools you already use – Salesforce, Slack, Gong, ringDNA, Salesloft, and Outreach.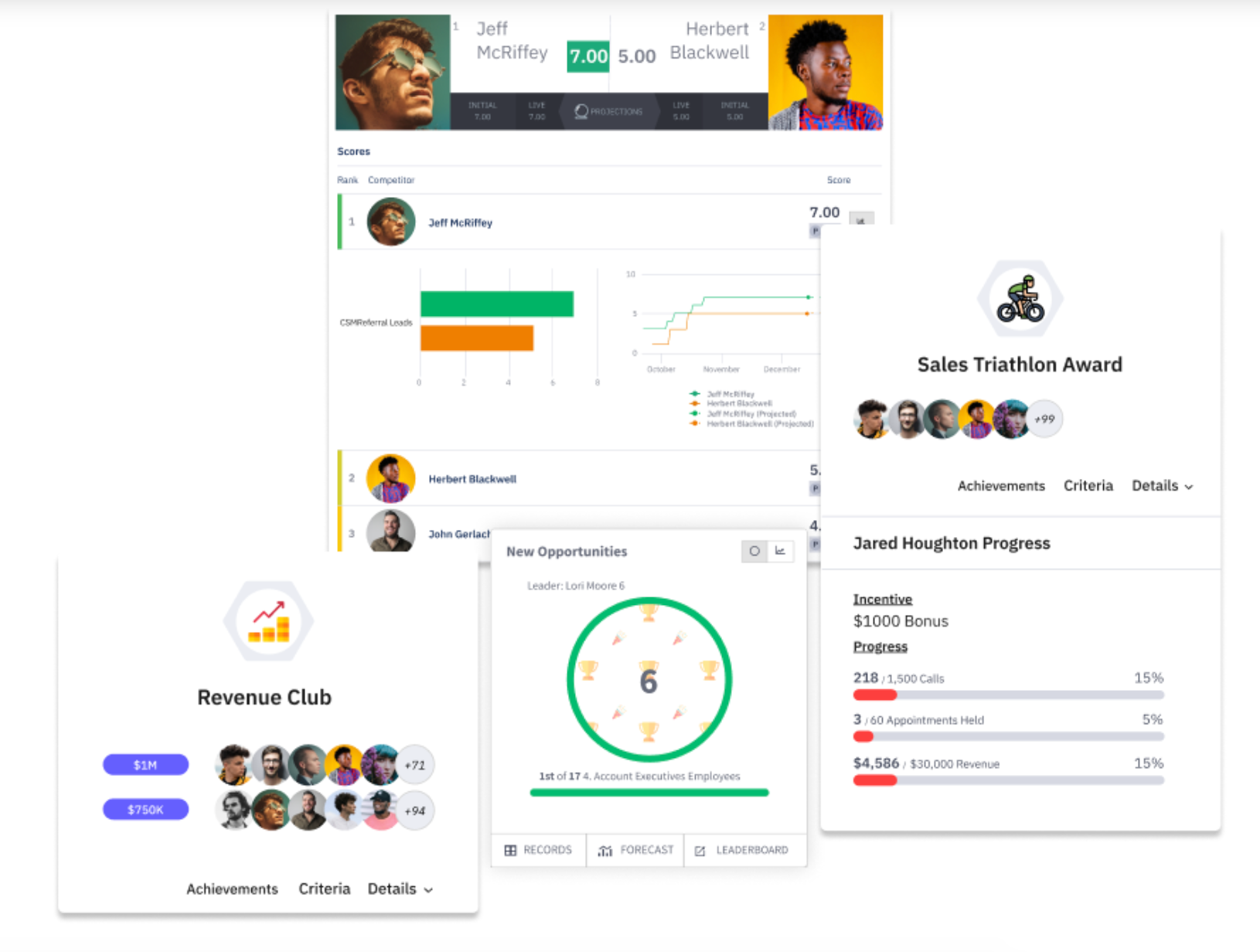 For teams looking to motivate their reps, drive performance, and boost culture, Ambition is a no-brainer, although all of these features are far from free. The base plan starts at $570/mo and it goes all the way up to $1200/mo (both are billed annually). Some of the niftier features include a "Coach" plan that essentially becomes your automated coaching program. It will do everything from provide coaching insights in real-time to setting up action plans for your reps that aren't exactly on pace to hit their goals.  
2. Hoopla
Hoopla (careful, it's a .net and not .com) positions itself as "the complete motivation and management platform." They claim to be able to help managers turn their team into superstar performers. So... what's all the hoopla about?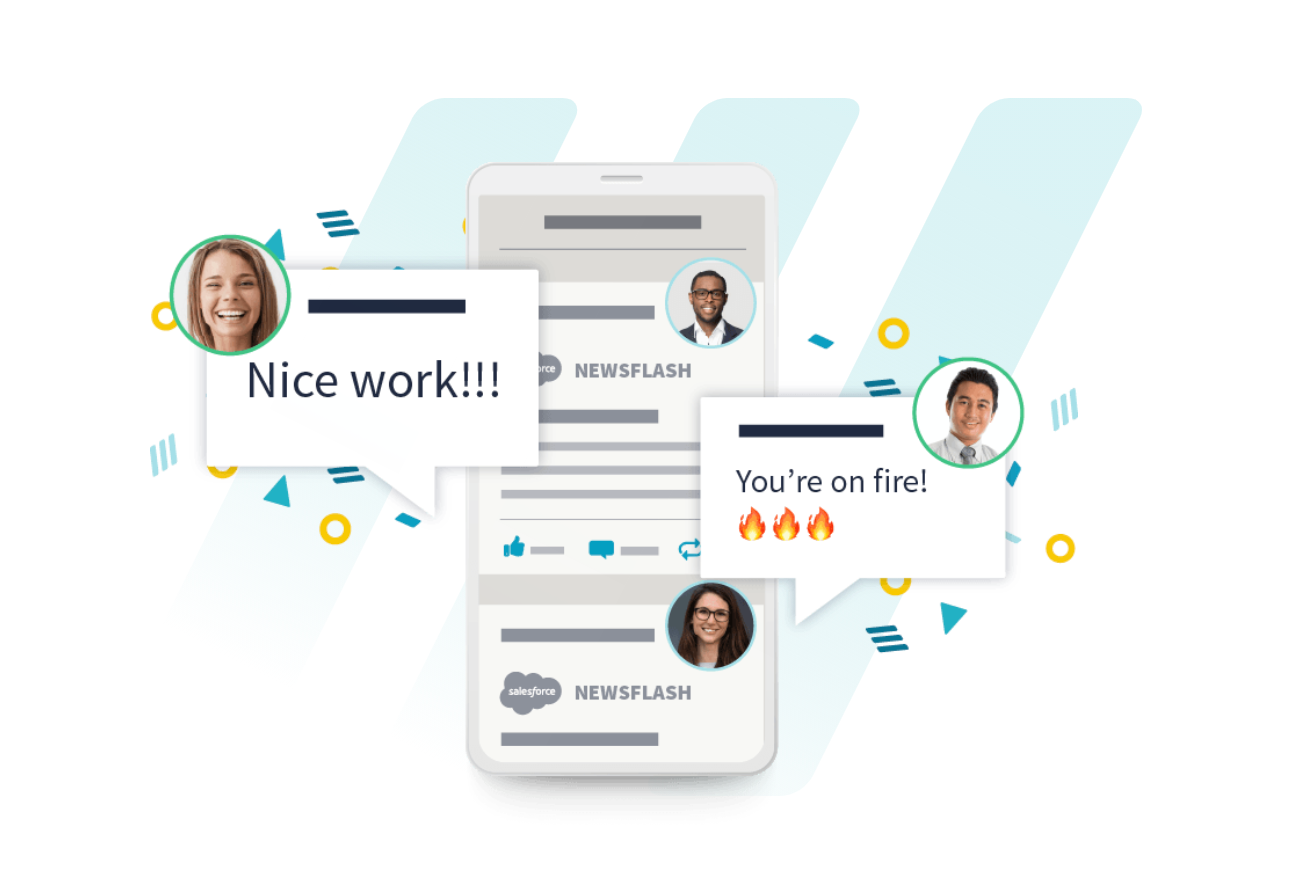 Sales Leaderboards – easily showcase progress reports, profile top performers, and find trends in data.
Newsflashes – real-time recognition, celebrations and goal-setting, and achievement pile-ons.
Contests – battles (key metrics to aim for by an end date), tournaments (work as a team to be number one for a metrics), races (set a goal and watch employees compete to be the first to reach it), and face-offs (build competitive teams with two-person contests).
Streaming Channels – deliver instant recognition on a big screen in the office to create a winning culture.
Regarding integrations, Hoopla also integrates with your common stew of software (Salesforce, Hubspot, Pipedrive, Slack, Outreach, etc.). Hoopla for the team starts at $199/mo and comes with unlimited support.
3. LevelEleven
LevelEleven after my initial review definitely comes across as one of the more modern and polished looking applications out there on the market today. The feature set is deep, although the tool is solidly on the pricier side (starting at $30/user/mo). What's under the hood?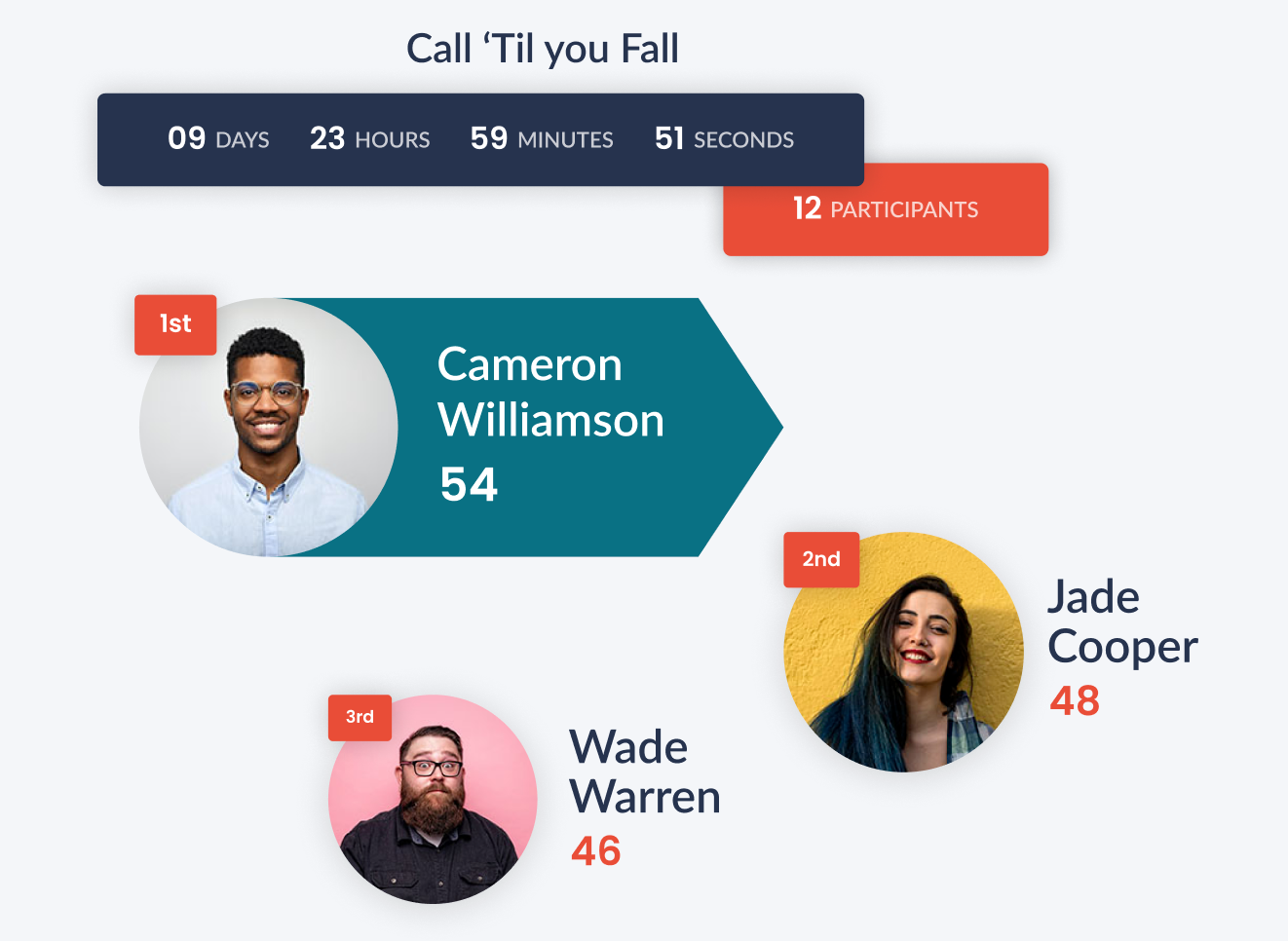 Easily create contest in minutes and automatically send productivity triggers via Salesforce, email, sales leaderboards, and more.
Give visibility into what matters with real-time KPI tracking.
Onboard new sales hires faster by empowering them to focus on behaviors that drive results.
Real-time course correction to keep your team on track to hit its goals every week with the help of a "Pacing Algorithm" and "Early Warning System."
Coach your team with consistency – LevelEleven snapshots performance data by rep and metric everyday so that your managers can have better coaching and discussions.
"Roll up and drill down" – allow senior leaders to run comparisons between different teams against a common metric that is critical to the sales process.
LevelEleven also connect with many different applications, but it's main connection appears to be with Salesforce (where it also maintains a 5-star rating).
4. Troops
Troops.ai is probably the most cutting edge of the group of applications here and is really a connecter tool between CRM and your messaging platform (Slack or Microsoft Teams). Troops actually notifies you in real time when anything happens that has a material impact on revenue. It makes it easy for your teams to see and do the right things at the right time, across devices so that teams can perform at the highest level. The neatest feature of Troops is probably its deal rooms which provide a 360-degree view of your key accounts, from warm lead all the way to renewal.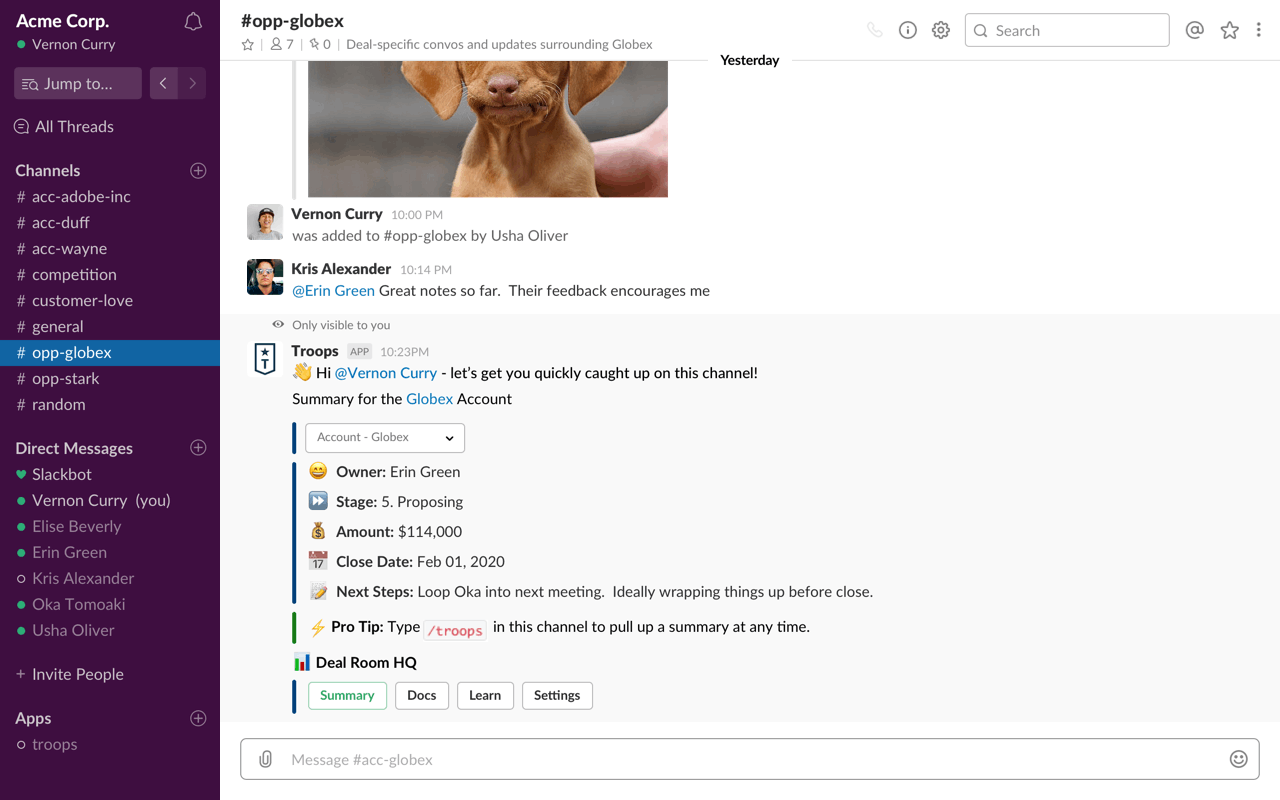 Ultimately deal rooms lead to better cross-functional collaboration on your best opportunities and customers, as well as faster sales cycles and higher close rates.
So... what's Troops going to set you and your team back? Troops start at $19/user/mo. minus any platform fees that could be incurred.
5. SalesCompete
SalesCompete (if you haven't already heard of us by way of making your way onto this blog article) is a simple to use Slack Bot that hooks into Outreach and Salesloft. It let's you...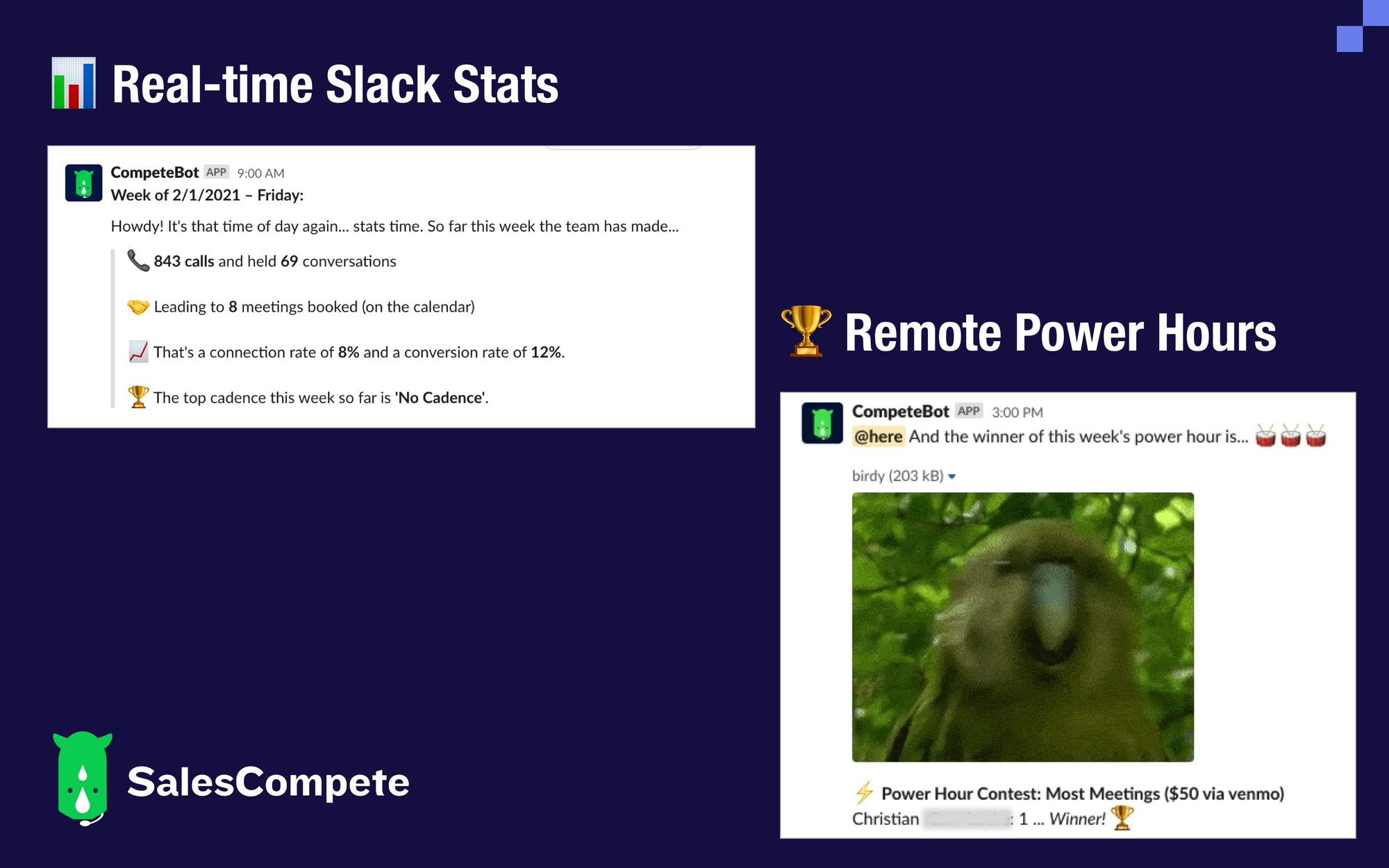 Send Daily Slack Kickoffs – keep your remote team engaged and competitive with once daily leaderboard messages, trivia, and inspiring quotes.
Automate Power Hours – run power hours inside of Slack and setup prizes for your team to win.
Easily Coach in Real-Time – setup the bot to send the latest conversation recordings from your team every hour for easy feedback inside of Slack.
Quickly Access Leaderboards – quickly access the latest Outreach or Salesloft stats and numbers for your team with slash commands inside of Slack.
Automate Meeting Bounties – setup meeting bounties with prizes to encourage your team to target specific named accounts.

SalesCompete is currently a free application for the time being.
6. Spinify
Spinify is a Canadian company headquartered outside of Toronto that touts itself as one of the most awarded sales gamification tools in the space...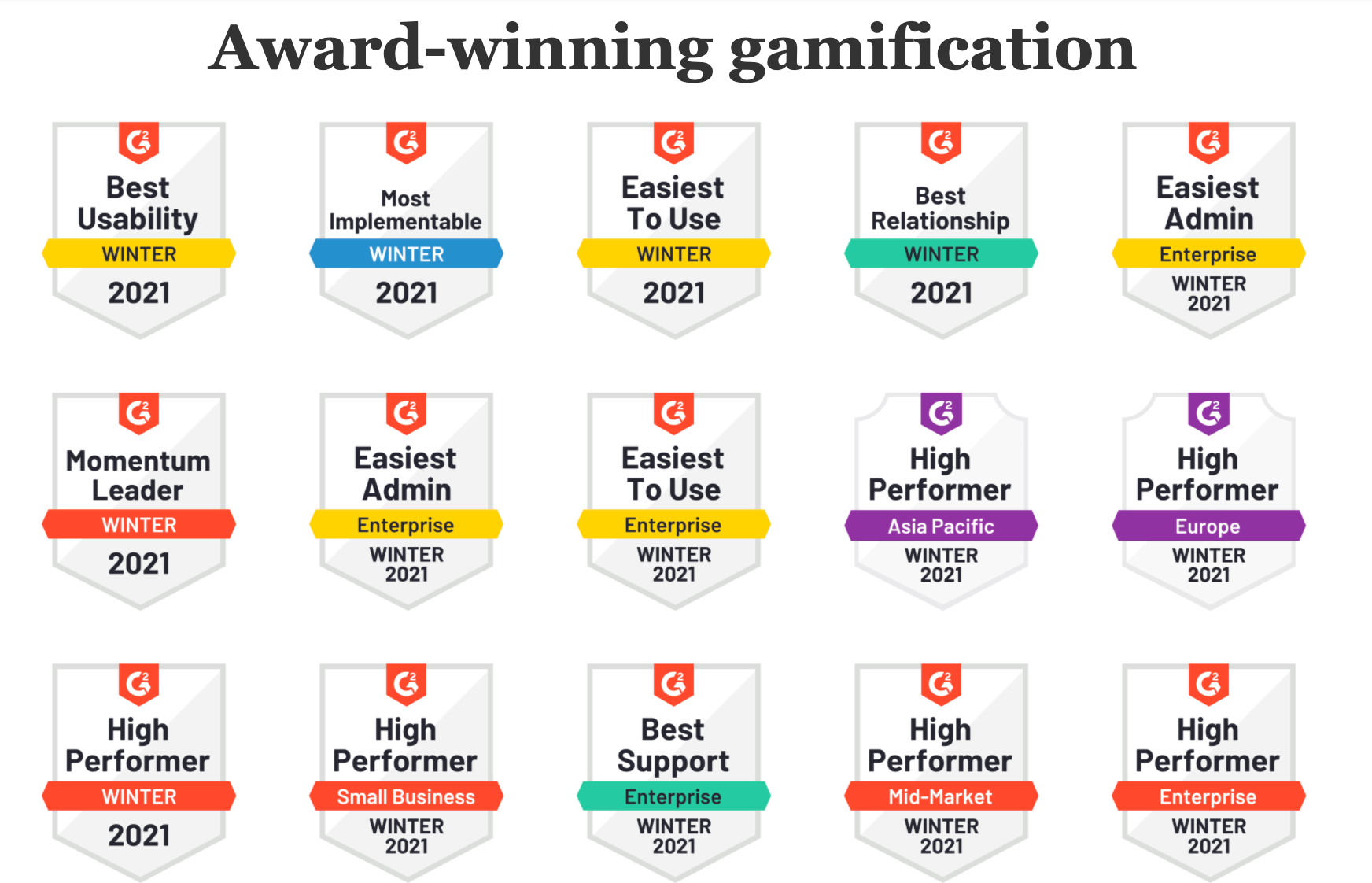 What's in the box for real?
Competitions and Visibility – create instant competitions, easily display the leaderboard on a TV or monitor.
Recognition and Fun – play your rep's favorite song whenever they hit a target and allow the whole team to view messages when in the office or on the road. Encourage a culture of health competition with 30+ motivators, including individual targets, team competitions, milestone celebrations, points and badgers, and predictive scoring.
User Adoption – employees can choose their own avatar to represent their progress and performance – including a race car, hot air balloon and more.
Coaching – use a performance grid to see how each rep on your team is performing against the metrics you set. View predicted activity scores and predicted outcome scores for the whole team. Check comprehensive "player stats" such as each rep's "Spinify score", badges earned, points gained, and more. Spinify also provides proven best practices to help you consistently motivate staff to keep them on track to hitting their targets (and even offers a virtual gong to ring when employees hit a goal).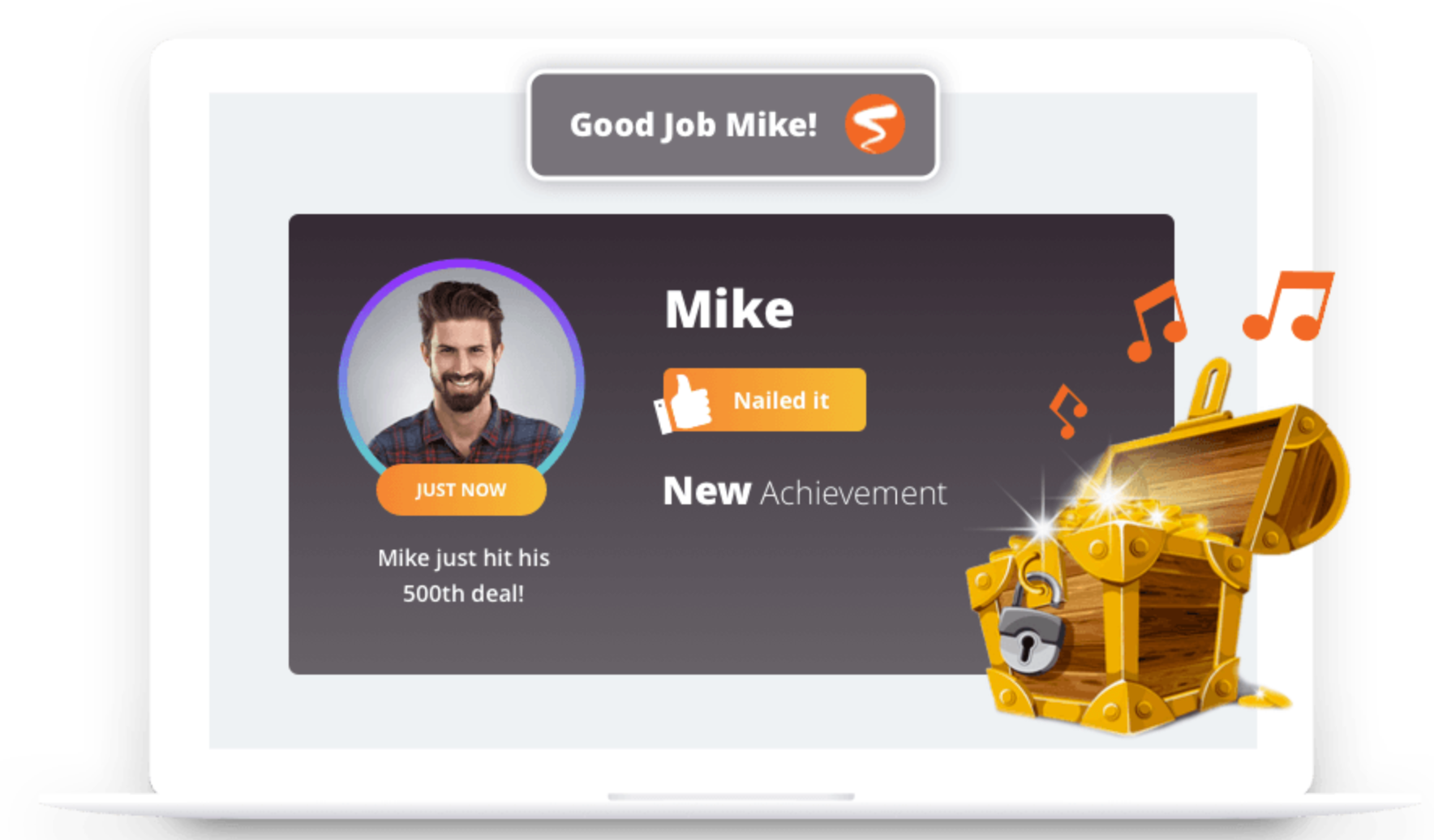 Spinify integrates with most software and CRMs. Pricing starts at $240/user/yr, however, they do not have a free version and do not offer a free trial. Do the awards make up for the risk? You'll have to find out for yourself.
7. PlayVox
PlayVox is an Agent Optimization Suite to evaluate, improve & inspire agent performance. It is a bit of a broader suite of tools that encompasses a learning management system and incentive program. You can do unique things like:
Create customized digital badges to recognize team members for outstanding results.
Develop coaching cards with goals and completion dates for easy management.
Use quality evaluation scores and performance results to identify knowledge gaps and receive automated coaching recommendations to more quickly improve agent performance.
Pricing is not shared publicly.
8. Thnks
Thnks (yes, that's not a typo) makes the list not because it's the next great sales gamification platform but because it's so dead easy to send a tangible gift/reward/prize to a teammate with it. Categories of prizes to send range from dinners and lunches to branded apparel to baskets of gratitude. I've personally used this on my team for what seems like ages now and it's truly a super easy way to deliver instant gratification to anyone on your team for cheap.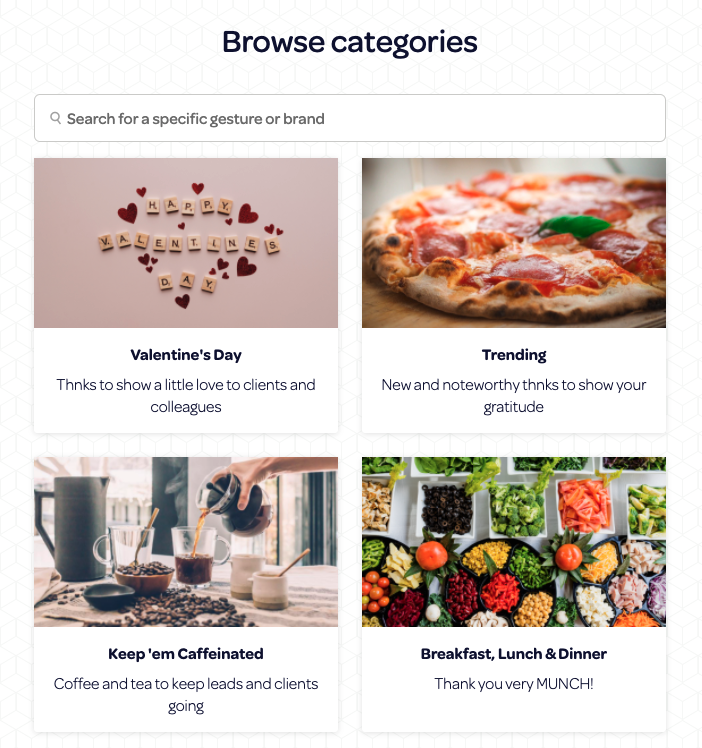 ---
And... that's a wrap! You now have a general gist for the best sales gamification tools on the market. Lucky for you there are a lot of options out there nowadays and integrations with the software you most likely already use are very prevalent across the board.
Always be closing,
Kyle