Inside sales require customer connections, but there's more to making a sale than just reaching out to customers. Through cold calls, customer contact, and a mix of planned timing and following the tried-and-true sales funnel technique, inside sales representatives bring in new customers.
With so much pressure and tracking on a single position, apps can be a great boon to the sales process. From contacting potential customers to finding quality leads to gathering actionable insights, these inside sales software programs are productivity solutions for sales teams. Let's look at some of the best inside sales software for 2023.
Inside Sales Software for 2023
Our top picks for sales software consider factors like ease of use, integration with existing systems, and practicality. We also noted things like live insights, small business solutions, and onboarding products to streamline team management and promote overall competition within the workplace. By gamifying the sales experience, you can encourage spectacular results from your team and boost overall productivity. So, it's time to look at our top picks for inside sales software without further ado.
1. SalesCompete
If you're looking for an all-in-one marketing solution, you need SalesCompete. This Slack bot streamlines sales rep management, coaching underperforming team members and offering actionable insights on engaging customers.
By combining social activities with actionable sales advice, SalesCompete brings the competitive edge of the office to remote working. SalesCompete is primarily a sales software to help track the sales process and move customers along the purchasing pipeline. By offering essential tips to manage customer relationships, this management app is a crucial solution for businesses of all sizes.
The number one draw of SalesCompete is automated insights. When onboarding new talent, your first week is spent on spreadsheets. Forget the spreadsheets. With SalesCompete, you can schedule automatic insights and check-ins and get metrics delivered regularly. That way, you can coach underperforming reps and maintain ideal customer conversion rates, all without ever leaving Slack.
If you're looking for an innovative Slack bot to promote leaderboards, drive competition, and boost underperforming sales representatives, you need SalesCompete.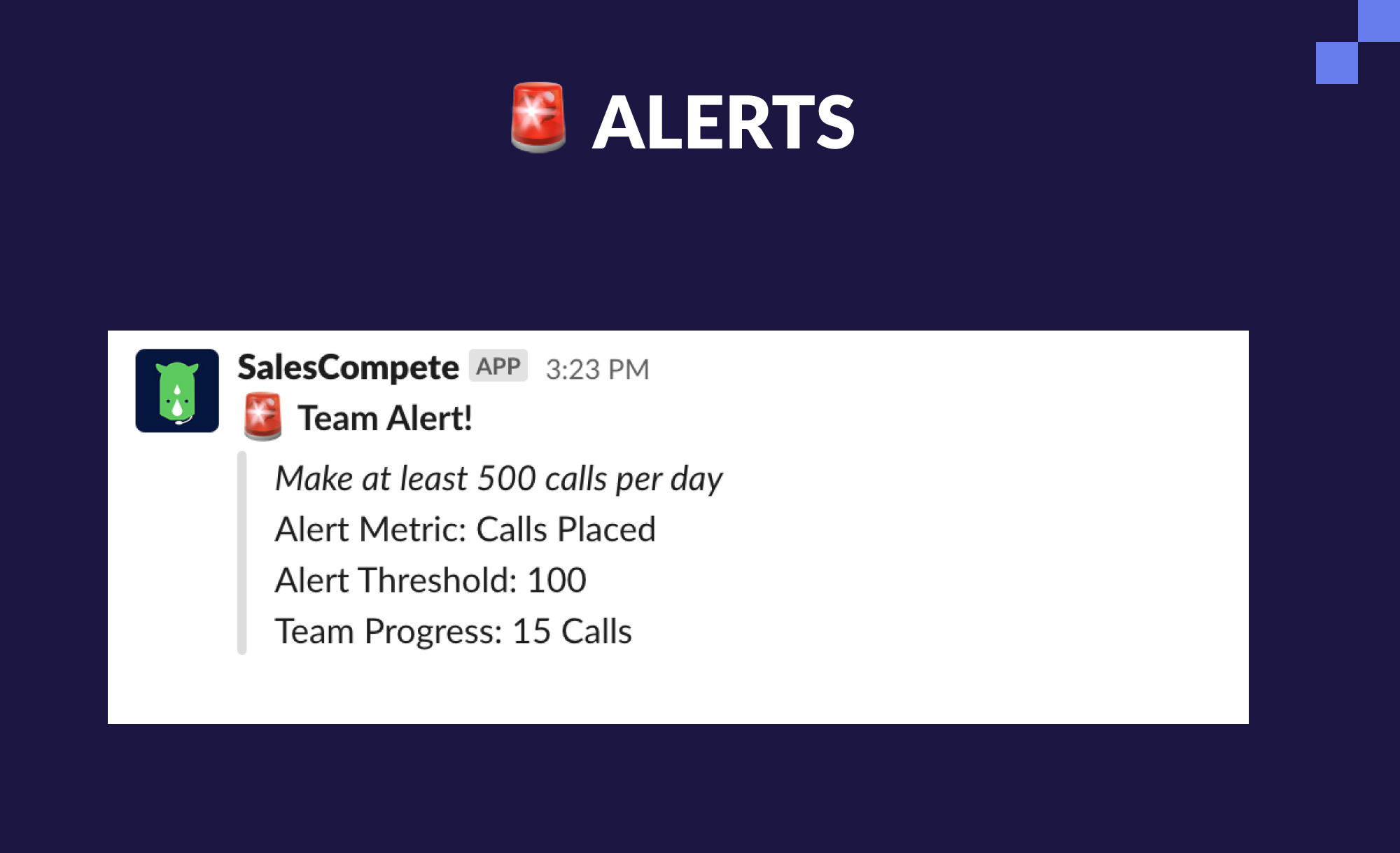 2. Close CRM
Track every part of your sales team with Close CRM. This sales customer relationship management software (CRM) offers to-the-minute insights on sales, emails, calls, and overall sale potential, all in a convenient dashboard. This all-in-one marketing platform tracks sales activities and calls and helps your team maintain key performance indicators (KPIs).
Sales reps can track the sales pipeline from a customized dashboard. By automating part of their workflow, your team can sell more in a shorter period. In addition, by streamlining a sales pipeline, they can spend less time logging their metrics and more time winning over customers.
By combining sales management and rep benefits in a single program, Close CRM is an excellent option for companies looking to benefit their sales team.
3. Salesforce
If you're a small business owner or sales manager looking for sales software to boost your ROI, SalesForce is a good choice. This powerful software is designed to speed growth and offer several platforms and products to grow businesses. Not only do they have mobile CRM support, but they also provide customer service support, making them an excellent choice for any small business running a storefront.
Salesforce offers task and metric automation, sales pipeline prediction, and management. By cutting down on manual management tasks, this CRM app speeds up sales team productivity and helps turn customer contact into profit for your business.
While this app does provide sales insights, it has a different, non-competitive feel than other sales tracking platforms, which may make it a better fit for small, niche companies more interested in training reps than hitting overwhelming sales numbers. Still, this may be the right fit if you're looking for a sales management app for small businesses.
4. HubSpot CRM
Automatic sales logging and pipeline visibility options? Yes, please. HubSpot CRM keeps all your sales insights in one place. Email marketing contacts, phone numbers, customer data, and sales percentages are easily accessible, making this an all-in-one sales platform perfect for larger companies.
Sales managers can track rep numbers and see real-time stats on customer conversion. By making every step of the sales pipeline visible, HubSpot CRM makes fine-tuning your sales funnel easier than ever. This sales execution platform turns rep efforts into tangible results, reducing reporting time and allowing team members to focus instead on customer interactions. If you're looking for a platform to track sales activities and analytics, check out HubSpot CRM.
5. Insightly
Insightly is an all-in-one platform to integrate your existing sales management tools into one hub. By combining sales insights, management, and metrics into a critical location, Insightly helps cut down on sales management legwork and instead uses the power of automation to streamline the sales pipeline.
Insightly promotes itself as a highly customizable platform perfect for many businesses, and they're not far off in that claim. This platform has dozens of customization options to make the system work for your business, and with AppConnect, you can track insights from your other favorite work apps in one place. From managing company culture to tracking KPIs, Insightly takes the burden of management off of sales leads so they can spend more time producing results and less time logging their sales metrics.
6. LiveChat
LiveChat is different from the other apps on this list, as it's made to work with your website. By streamlining the customer service experience, LiveChat helps avoid missed connections and cuts down on ticked turnaround for customer service employees. In addition, LiveChat uses the power of AI-powered insights to host contextual conversations with potential customers. Simple questions like office hours, offerings, and more, can all happen through LiveChat, freeing up customer service reps to take on more complex problems.
LiveChat works best combined with other CRM programs, as it's directly meant to funnel customers toward your sales team by answering questions upfront. So if you're looking for a sales-adjacent platform made to increase sales productivity and boost customer relations, LiveChat is a great AI solution for your business.