We could not be more excited to officially announce our integration with Outreach.io! Outreach is the market leader in the insides sales enablement space and we're thrilled to watch how inside sales teams and business development teams take advantage of our seamless integration bringing Outreach into Slack in an even more enabling way.
What is SalesCompete for Outreach?
SalesCompete was born out of necessity. Having experienced the pain behind remotely managing an inside sales team during very uncertain times, we set out to solve the equation behind how to maintain a culture of competition amongst our remote sales reps.
Use SalesCompete to:
• Motivate and increase remote collaboration for your remote inside sales team
• Gain fast and easy access to real-time stats and data
• Improve your sales coaching and give real-time call feedback

Four Ways to Use the Bot:
For Sending Daily Kickoff Messages to your Team
Setup daily sales kickoff messages to engage your team inside of Slack even when you're not on a Zoom call. Our daily messages can be configured to post various charts and graphs, inspiring quotes of the day, and even jeopardy trivia questions for the team to start their day off with the competitive juices pumping.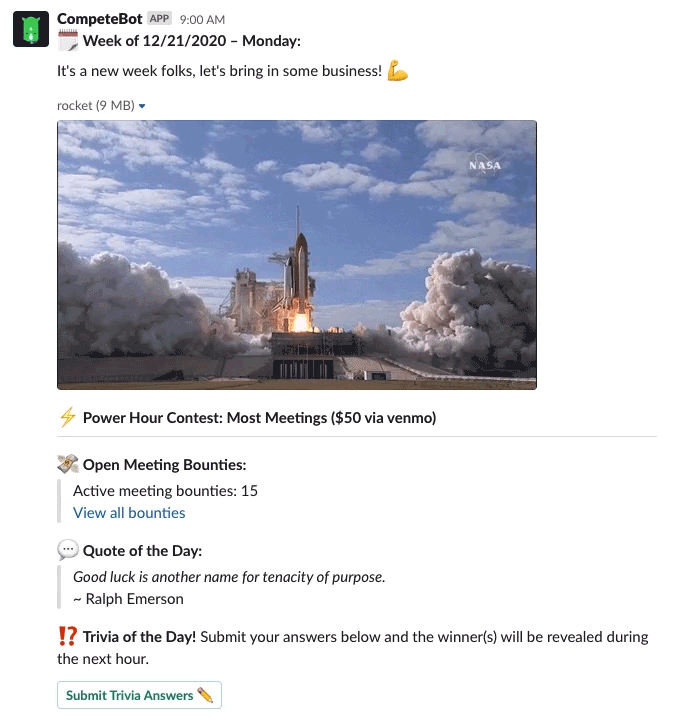 2. For Running Remote Power Hours
Running remote power hours is now as easy as a few clicks when setting up the SalesCompete bot. You're able to configure the number of power hours per week, the time of day each power hour runs, as well as what the goals and prize(s) should be.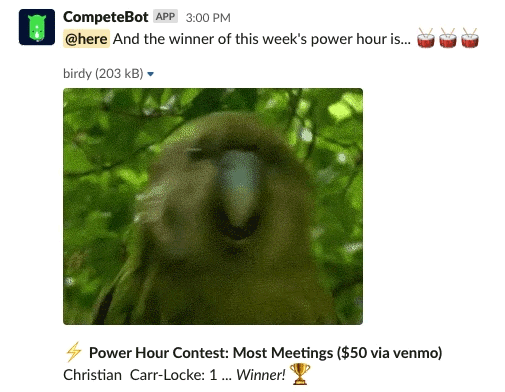 3. For Setting Up Meeting Bounties
Motivating your team to target specific named accounts in an account-based approach is now as easy as setting up a few meeting bounties inside of SalesCompete. When you create a new bounty, you can pick a Slack channel to notify the whole team. When a bounty is successfully captured (via a meeting being booked on the calendar) the team is also notified as soon as it happens.

4. For Automatically Sending Recordings of Booked Meetings
Manually digging for call recordings is now a thing of the past with the ability to automatically pull call recordings via simple Slack "slash commands" in the SalesCompete bot. Simply type /success to pull up all of your team's call recordings for the week where a meeting was successfully booked.  

And... that's a wrap! At the end of the day we're here to build a product that makes your job and your life easier. We'd love to hear about how you're using the SalesCompete integration with Outreach. Please drop us an email at support@salescompete.com to share your feedback and questions.
Keep Dialing,
~ Kyle