If you've been an inside sales manager for even two days you know just how important (and how much time) coaching and enabling your reps can take. If you want to compete in 2023, you're going to not only need the best reps, but the "best enabled" reps as well. That means learning what your top reps are doing and replicating it with your lower performing reps. What are they saying or doing on calls and in deals that sets them apart? You might not ever know, especially if you don't utilize technology like the programs listed below. Luckily, there is no small list of technology that can help you... so let've dive right in!
---
First things first, let's define what the difference is between "Sales Coaching" and "Sales Enablement" tools. This can be very confusing if you haven't used either type of software before.
Sales Coaching Tools
These programs give sales managers the ability to do things like analyze sales calls by listening into sales reps while they're on the phone, and even the option of "conversational intelligence" which can signal upsell or closing opportunities in real time to reps. This category of tooling could also include a repository of previously recorded sales calls, as well as a list of upcoming sales deals in the pipeline. Overall, at the very least these tools will help your reps all use consistent messaging and positioning for your product. Without tools like these, the only way you'll know what your reps are saying on the phone is by what they tell you they say!  
Main Benefits:
Improves close rates
Greater visibility into which sales call may influence revenue
Reduce onboarding/ramp time for new reps
Establishes best practices across your team, as well as consistent messaging ay!
Sales Enablement Tools
Whereas Sales Coaching focuses on analyzing calls, Sales Enablement focuses on sales and marketing collateral – specifically, the storing of it. Why is this beneficial for your sales team? Well, think about how your reps send out information after a call to prospects today. Is it the same content every time? How do they know what to send? When utilizing Sales Enablement software, you can make sure your entire team always has on hand content that is productive, useful, and opportune during all aspects of the selling cycle.
Main Benefits:
Your team always has access to (and is sending) consistent and updated sales/marketing collateral to prospects
Sales reps that are more prepared and look more professional during and after sales calls
1. SalesCompete
SalesCompete (if you haven't already heard of us by way of making your way onto this blog post) is a simple to use Slack App that hooks into Outreach, Salesloft, HubSpot (and now Salesforce). It's a go-to and a no-brainer if you have Slack and either Salesloft, Outreach, HubSpot or Salesforce. It essentially brings all of the data of these tools into Slack and layers on top various coaching and enablement features as described in detail below.  It's also very easy to get started with because there is no new software to learn -- it's quite literally entirely inside of Slack. It also happens to be the only free/freemium tool on this listicle. It let's you...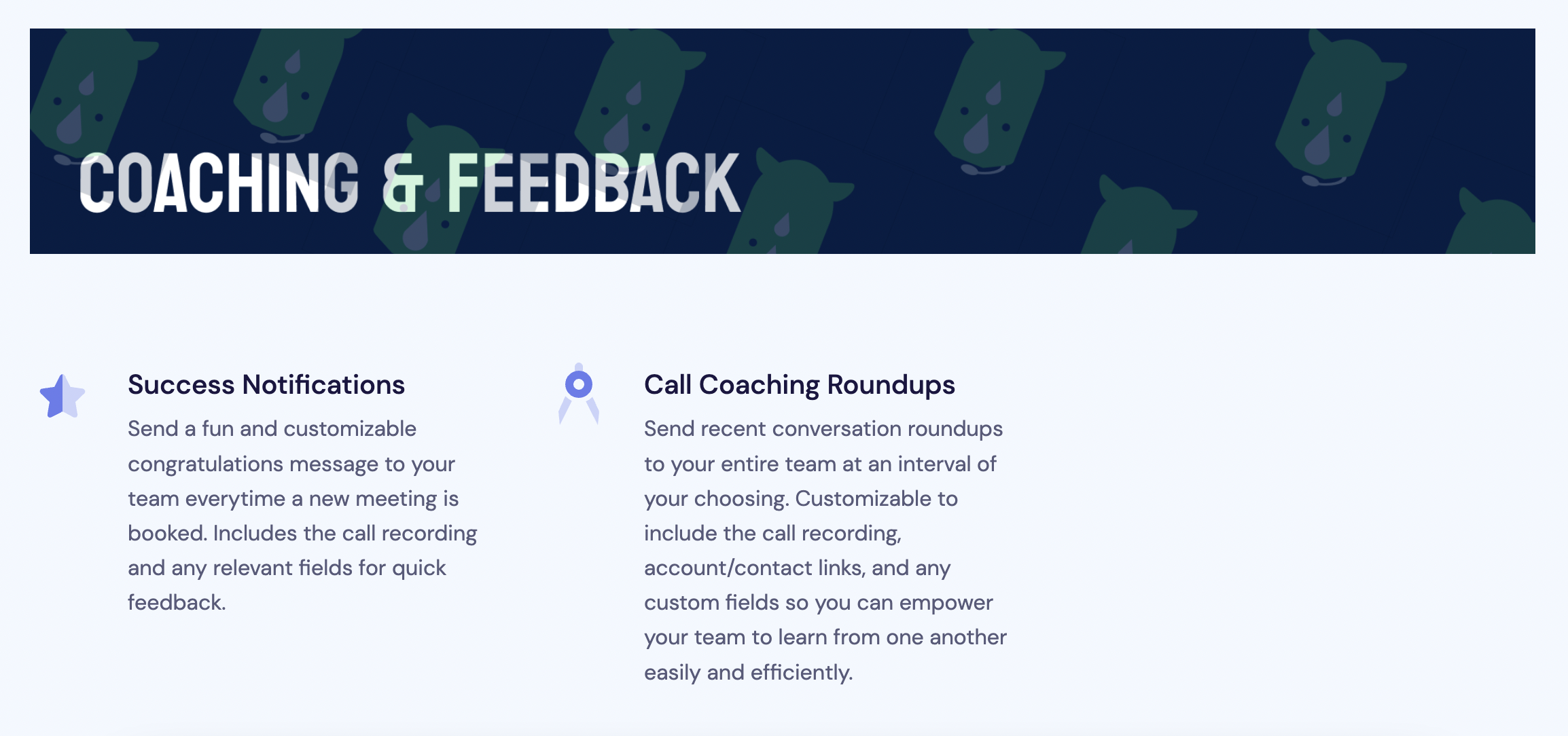 Easily Coach in Real-Time – setup the bot to send the latest conversation recordings from your team every hour for easy feedback inside of Slack.
Send Daily Slack Kickoffs – keep your remote team engaged and competitive with once daily leaderboard messages, trivia, and inspiring quotes.
Quickly Access Custom Leaderboards – quickly access the latest stats and metrics for your team with slash commands inside of Slack. You can also setup custom activity-based leaderboards of your own extremely quickly. Gamifications features like this are useful for coaching your team as you can show your reps how their activity metrics and activity numbers lead to success (or not) and why.  
Success Notifications – setup triggers/notifications to send inside Slack (in real time) whenever reps log calls that match a certain "success" disposition inside your CRM or Salesloft/Outreach. Configure these messages to include any notes, custom fields, recordings, etc. from the call as well for easily calling out in Slack any coaching/feedback for the rep after their win.
Challenges, Alerts & Goals – team tournaments, 1-on-1 challenges, recurring alerts and goals – all of  are possible directly inside of Slack with SalesCompete. These are great for helping you coach reps on how to manage themselves in regards to certain activity metrics.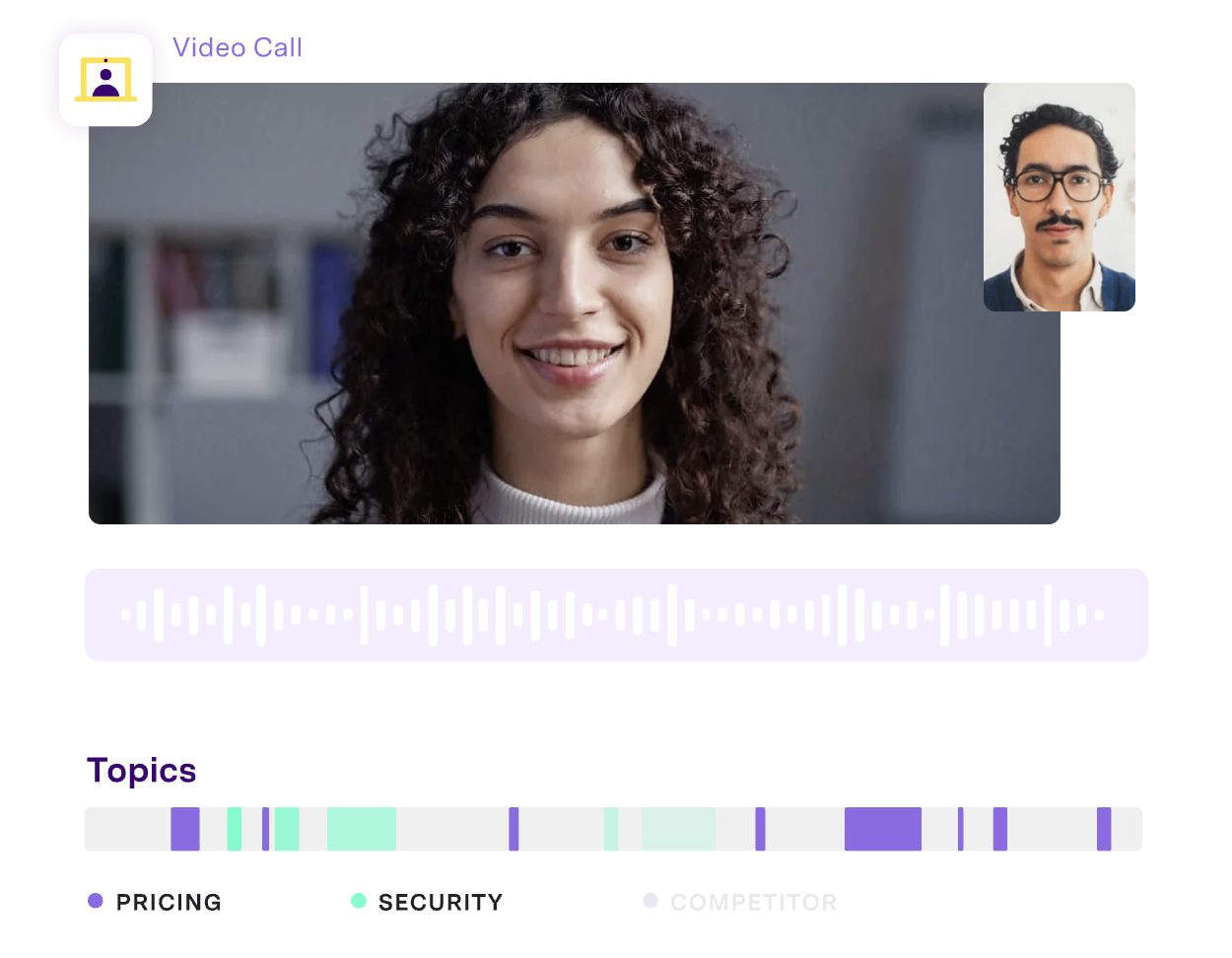 The "big dog on the block" – Gong has been the leader in conversational intelligence since they arrived on the scene almost 10 years ago. They're known for their stellar reviews on their call analyzing – the best on the market by any measure, with Chorus (described below) being a close (cheaper) competitor of theirs. What sort of stuff can call analyzation tell you? If you're talking too much of the time, if you're using too many buzzwords, if you are missing buying signals – that sort of stuff – powerful? Very.
Gong can do more than just call analyzing though, using Gong you can get AI around things like:
Personalized guidance for your reps on what to focus on – and when – data on coaching opportunities, which deals reps should focus on, as well as how to improve forecasting accuracy.
Deal execution – get a bird's eye view of pipeline health, address risk before the deal is lost, etc.
Forecast – take the guesswork out of forecasting, diagnose and pinpoint changes in your forecast
3. Salesloft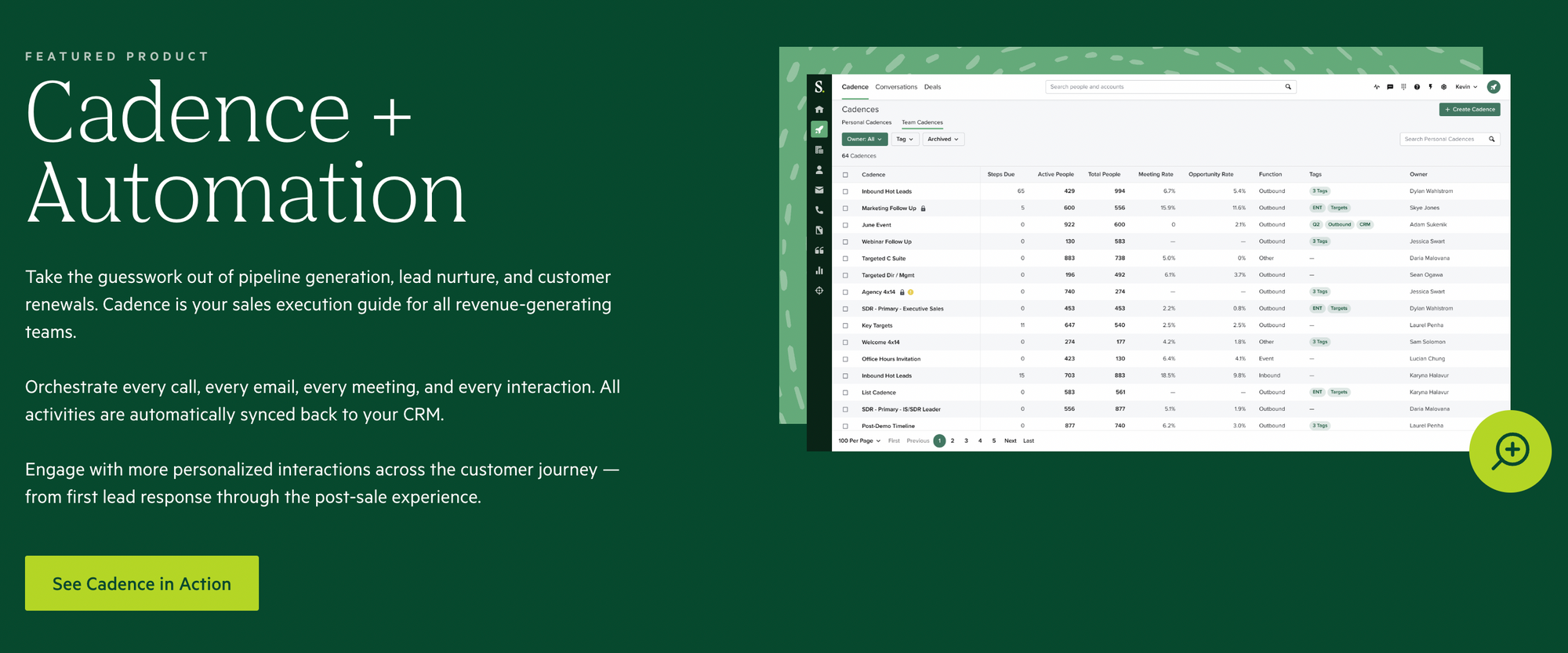 Personally, we've used Salesloft for many years. It's the close cousin below to Outreach (and they're very much similar, if not identical, tools). It's great as a standalone solution for your sales team or as a plugin to CRM. So what does it do best?
Cadences, calling, recording. Salesloft is the backbone to your team in the sense that it's what they'll spend all of their time in day-to-day if they're are BDR or SDR, and a lot of their time in if they're an AE. Cadences enable your reps to build out sequences of calls, emails, social touches, etc. with specific audiences of leads. This way, the reps never forget or fail to reach out to the right prospect at the right time. The calling is very well integrated and gives your reps ability to "locally dial" (have area codes in the same place as the people they're calling) as well as call internationally. It's all-in-all a great solution for kickstarting outbound sales efforts.
4. Outreach

Outreach is another "big sales tech dog" having raised a round of $200M in 2021 at a nearly $5B valuation. They're product started off similar to Salesloft with sequences (essentially cadences) that let reps setup preset activities to perform with prospects in a specific order (such as calls, emails, LinkedIn message, etc.).
Now, they do a lot more with their suite of enablement tools:
Playbooks – by wiring the sales process end-to-end, Outreach Engage allows sales leaders and teams to identify the best playbooks for each product and customer segment.
Sentiment Analysis –  AI-powered sentiment insights help overcome objections and increase reply rates.
Outreach Guide – automates selling plans, assists reps in sales meetings with AI-generated insights, and offers teams true visibility into their deals.
5. Orum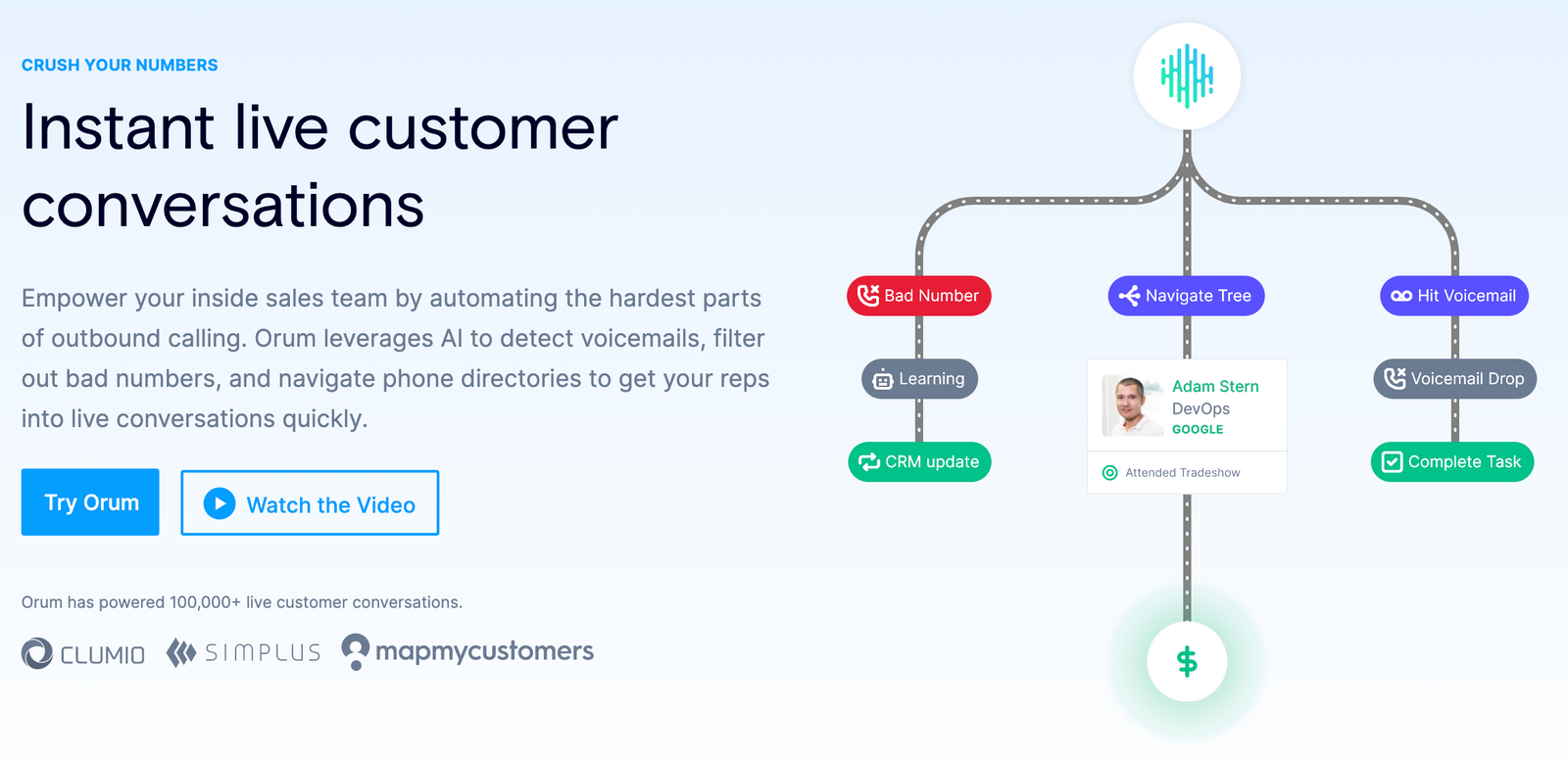 If your team is heavy on calls like us (disclaimer: we also use and love Orum – no affiliation), you'll need a power dialer. Older ones have existed for quite some time (like Connect to Sell, etc.) but... we couldn't have more positive things to say about Orum (and it's got the best integration in the market with tools like Salesloft and Outreach above).
It's a game changer of a tool. Our team literally 2x'd the meetings they were able to set and 3x'd the number of calls they were able to make overnight after implementing the Orum power dialer tool into our workflow. It's super fast to setup and hooks directly into Salesloft or Outreach. Once you've set it up, it enables your reps to bypass phone trees, dial two, three, four, even eight numbers at a single time. It essentially is like creating a whole team out of one or two of your BDRs. Once one BDR has it, every single rep on your team is going to be looking to use this tool, I promise you that.
6. Chorus
Chorus AI is a competitor to Gong, as mentioned above. Although it was originally known as the second-comer and cheaper alternative to Gong in the market, it has recently been acquired by ZoomInfo – the prospecting database powerhouse. This makes it interesting to watch as they're basically no longer capped on innovation due to a nearly limitless budget. What all can Chorus do?
Call Recording – automatically takes call notes, analyzes calls for long monologues (bad), and gives automatic call coaching recommendations.  
Rep Onboarding – skills assessments and company-specific sales training modules.
Deal Reviews – improved pipeline visibility, alerts for key deal risks, etc.
7. Hubspot (Sales Hub)
Hubspot is the marketing tool we all know and love for mass email campaigns, customer and prospect nurturing, etc. Over the past few years though it's been focused on becoming a stronger (and much simpler to use) alternative for Salesforce. With this comes SalesHub – an almost Pipedrive-like tool for your sales team to enable them to create, work, and (hopefully) close deals faster. It also happen to include a call dialer, call recording system, etc. for easy coaching. Although not the best at any specific feature of the various software programs on this list, it does do the job "enough" with each feature to make it worth your while if you're looking for something easy to setup, cheaply and quickly. In a nutshell, you get a basic version of Salesloft (Sales Hub has a cadences/sequences like feature, also called "Sequences") along with a dialer for your team to make calls, a way to take notes and schedule, meetings – the whole 9 yard per se. What you won't get is great conversational intelligence, sales collateral management, etc.
8. Highspot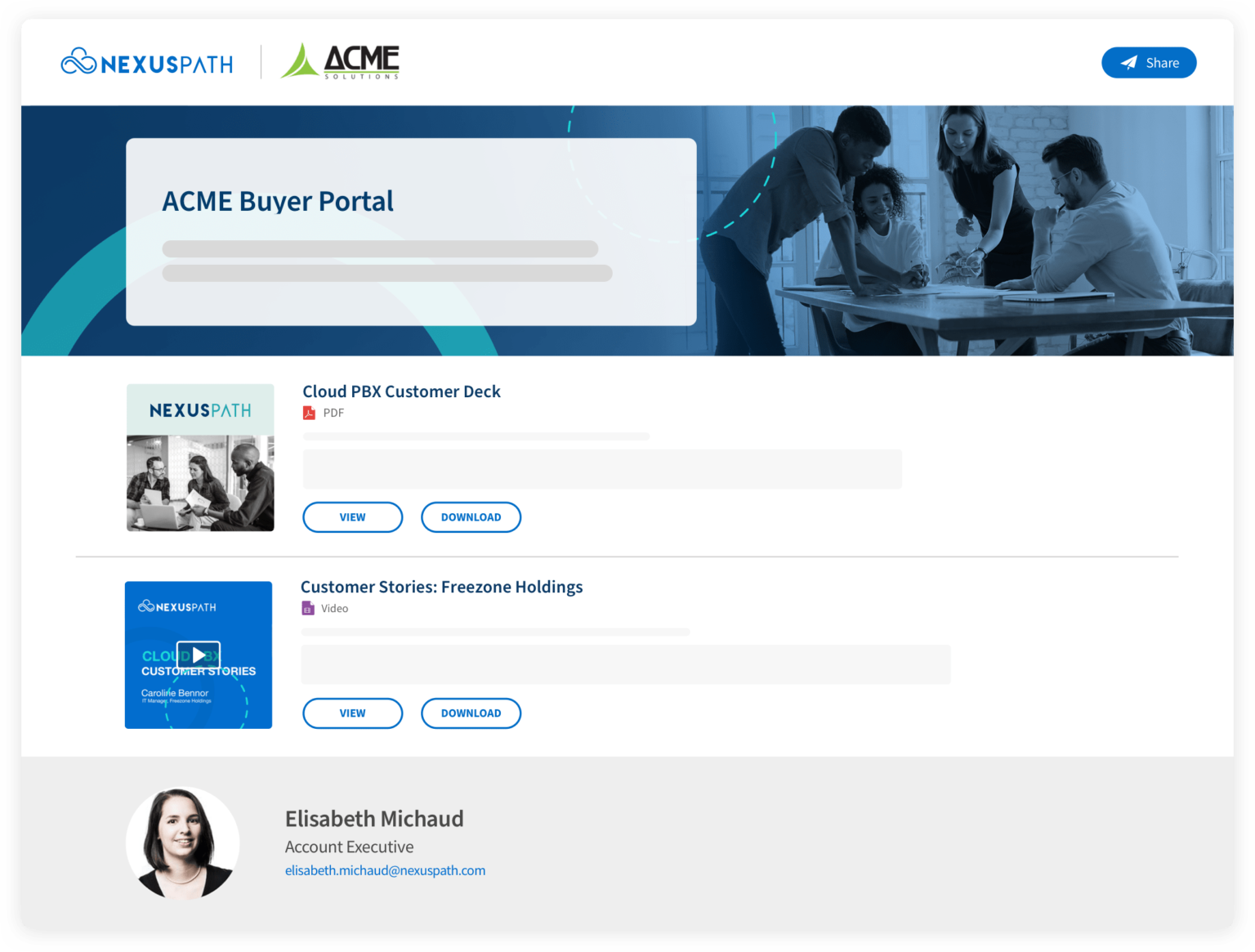 Highspot is one of the only tools on this list that focuses purely on sales and marketing collateral management/sharing/analytics.  
Main Features:
Content library for your reps to consistently pull the latest and greatest collateral for prospects
Rep training to guide them on what to show, and when
Track engagement from prospects and customers in real-time with your content (that reps are sending out). This is great for understanding what about your content resonates (or doesn't).
Coaching scorecards to pinpoint winning (and losing) behaviors across your sales organization and give every rep actionable feedback on their approach with prospects.
---
And... that's a wrap! You now have a very thorough idea of the best sales coaching and sales enablement tools on the market. Luckily, there are a lot of options out there nowadays and integrations with the software you most likely already use almost certainly exist.
Always be closing,
~ Kyle