Salesloft and Outreach.io are absolutely incredible tools for sales teams. I cannot imagine running a BDR team or any inside sales team for that matter without them. Cadences and sequences are their "bread and butter" – that is, the ability to add contacts and prospects to semi-automated schedules of direct customer outreach. What really makes these two platforms shine though is their ease of use, starting with their integrations.
Both Salesloft and Outreach.io have integrations with 100+ tools that are enabling sales organizations everywhere to optimize more than just when prospects receive phone calls or emails  – these are 3rd party tools that do everything from coach reps, to set goals, to running challenges, you name it. Below, we'll run through four of our favorite integrations and why you should take look at them for your sales team.
Our Favorite Salesloft and Outreach.io Integrations

1. VidYard - (embed personalized video into your cold outreach)
Vidyard is our first integration to showcase today. It's more or less a complete video marketing solution for your sales team. The Salesloft and Outreach.io integrations are seamless. Installing Vidyard allows your sales reps to begin embedding videos directly into emails without ever leaving Salesloft or Outreach.
Vidyard does provide more than just the ability to send bite-sized videos inside emails. It also provides a lot of analytics on the backside to enable you and your reps to understand which videos are driving actions, conversions, and more. You can easily add calls to action directly inside the video as it plays and report on those metrics as well (such as which calls to action are more effective, etc.).
Overall, Vidyard should be one of the first thoughts on your mind as far as integrations are concerned if your team sends a lot of emails (and most teams do). Video in emails provides a personalized touch that most do not have (and with Vidyard) can be an easy and effective way to break through the "clutter" most prospects are dealing with nowadays in their inboxes from sales teams at every company under the sun.
👉 link to install Vidyard via Salesloft App Store
👉 link to install Vidyard via Outreach.io App Store
2. Sendoso - (API to automatically send small gifts to prospects)
Sendoso is a truly unique technology that really aims to bring your direct outreach approach to the next level. What can you do with Sendoso? For starters:
Send direct mail that's printed on demand
Automate handwritten notes
Customize and send out gifts that grab attention
Send company swag that builds brand awareness
Instant e-gifts sent in real-time
You've probably already started to get an idea of the various way you could work the above into your cadences and sequence campaigns – the possibilities for ABM and ABS (account-based marketing/sales) is truly something. The perks of Sendoso don't end there though. It links directly into Salesforce too, where you can track activity and campaign results.
How does it all work behind the scenes? Sendoso has a global set of warehouses and stores where your company can order company swag and gifts from. We haven't really looked into if there are any other competitors to Sendoso, because in our opinion the Salesloft, Outreach.io integrations are so seamless that using Sendoso for anything ABM or ABS in your sales process is a no-brainer.
👉 link to install Sendoso via Salesloft App Store
👉 link to install Sendoso via Outreach.io App Store
3. SalesCompete - (gamification & competition bot built inside of Slack)
SalesCompete lives inside of Slack and fills in the missing gamification and competition features that are very clearly missing from Salesloft and Outreach. Use SalesCompete to:
💪 Increased team engagement & motivation
🎧 Faster call feedback & coaching
📈 Improved visibility of team metrics & performance
If you've ever thought to yourself "wouldn't it be nice to run tournaments and challenges for my BDR team directly inside the tool they live in everyday, Slack, but also have it integrated directly into Salesloft or Outreach" - well, this is your tool. We are a bit biased, but testimonials such as the ones listed on the SalesCompete home page tell the story better than we ever could – SalesCompete helps align teams, break up the mundane nature of the virtual workplace, and provides a fun and easy way to roll spiffs and monthly goals to hit.
Another benefit of the bot is that it doesn't store any data, pulls data from Salesloft and Outreach in real-time, and provides access to basically the most important metrics inside of Salesloft and Outreach instantly. Check out more of the features below that will really help you spend less time managing reps and more time hitting your goals.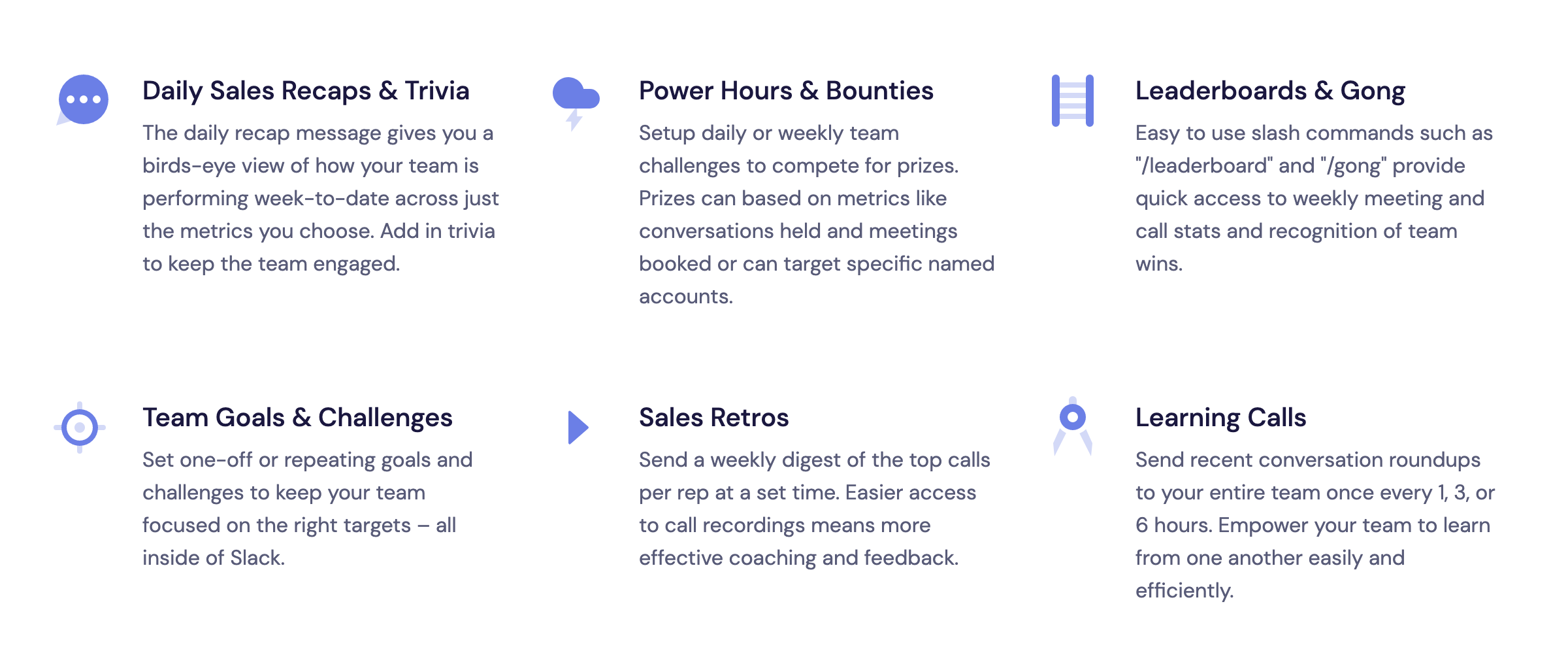 👉 link to install SalesCompete via Salesloft App Store
👉 link to install SalesCompete via Outreach.io App Store
4. Orum - (power dialer for 10x'ing conversations)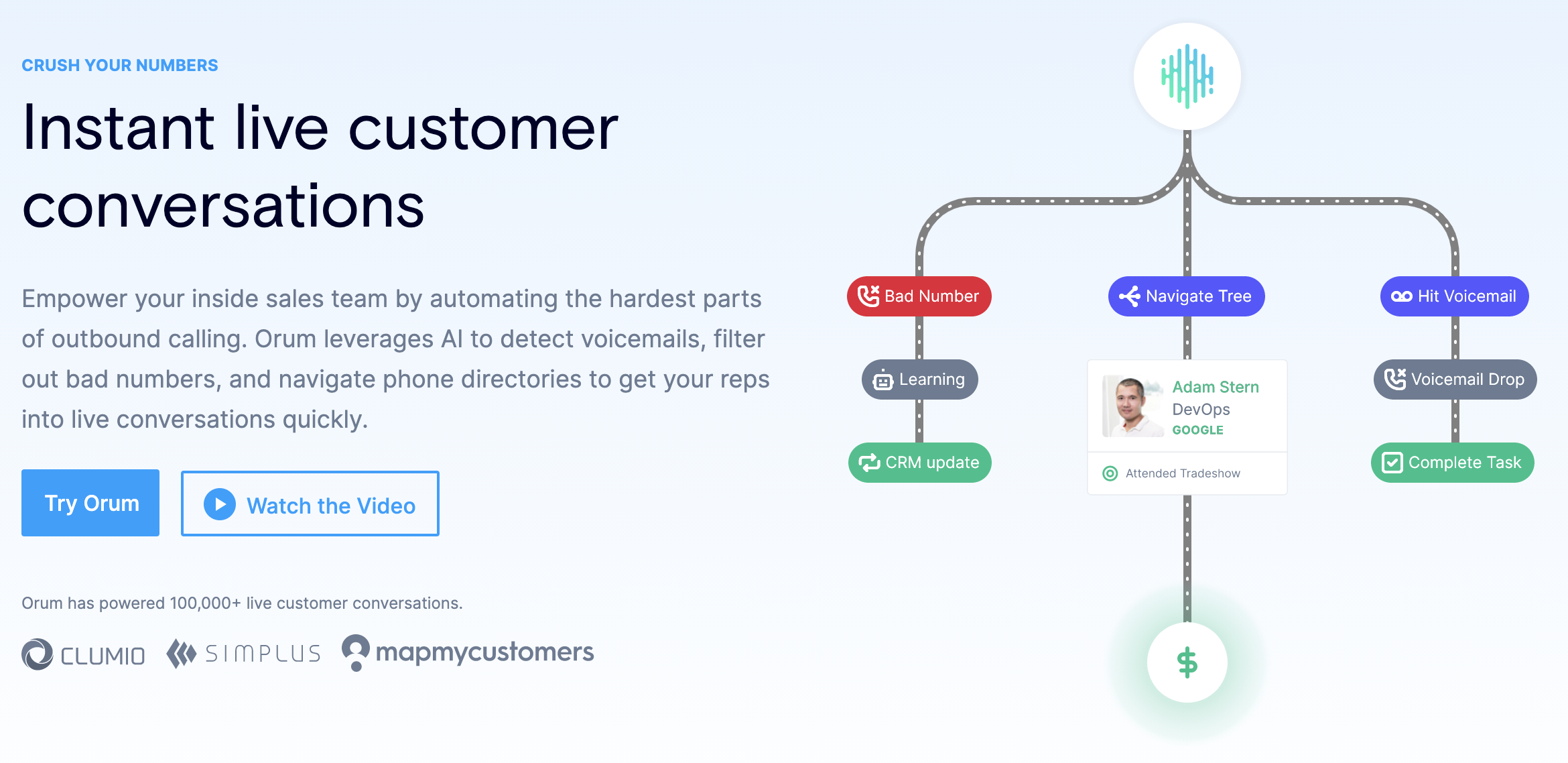 If your team is heavy on calls, we couldn't have more positive things to say about Orum than we do. It's a game changer of a tool. Our team literally 2x'd the meetings they were able to set and 3x'd the number of calls they were able to make overnight after implementing the Orum power dialer tool into our workflow. It's super fast to setup and hooks directly into Salesloft or Outreach. Once you've set it up, it enables your reps to bypass phone trees, dial two, three, four, even eight numbers at a single time. It essentially is like creating a whole team out of one or two of your BDRs. Once one BDR has it, every single rep on your team is going to be looking to use this tool, I promise you that.  
👉 link to install Orum via Salesloft App Store
👉 link to install Orum via Outreach.io App Store
---
With over 100 integrations on both the Salesloft and Outreach.io app stores respectively, it can be a bit overwhelming as to which integrations are worth the trial and error time that can sometimes be required when trying new technology. We've personally used each of the integrations above and can attest to their utility, speed of setup, and overall ease of use. We think every inside sales team on the planet using Salesloft or Outreach.io should have all four integrations above. There's no doubt that each of the solutions is going to level up your sales rep's game dramatically. We're all about efficiency and value and these tools have both of these things in spade. I can't wait to see what your team is able to do with these tools!
💪 Happy Prospecting,
~ Kyle