As a sales development manager, you know that motivating your team to hit their targets week in and week out can be tough.  That's why we developed the latest feature we're proud to announce - goals.
The goals feature inside SalesCompete is used to rally your sales reps around a team or individual goal. Setup a goal with a target metric and deadline and you're off to the races. Alerts appear automatically in Slack when the goal is 100% completed or overdue. To setup your first goal, scroll down to the 'goals' section of the CompeteBot home page inside of Slack: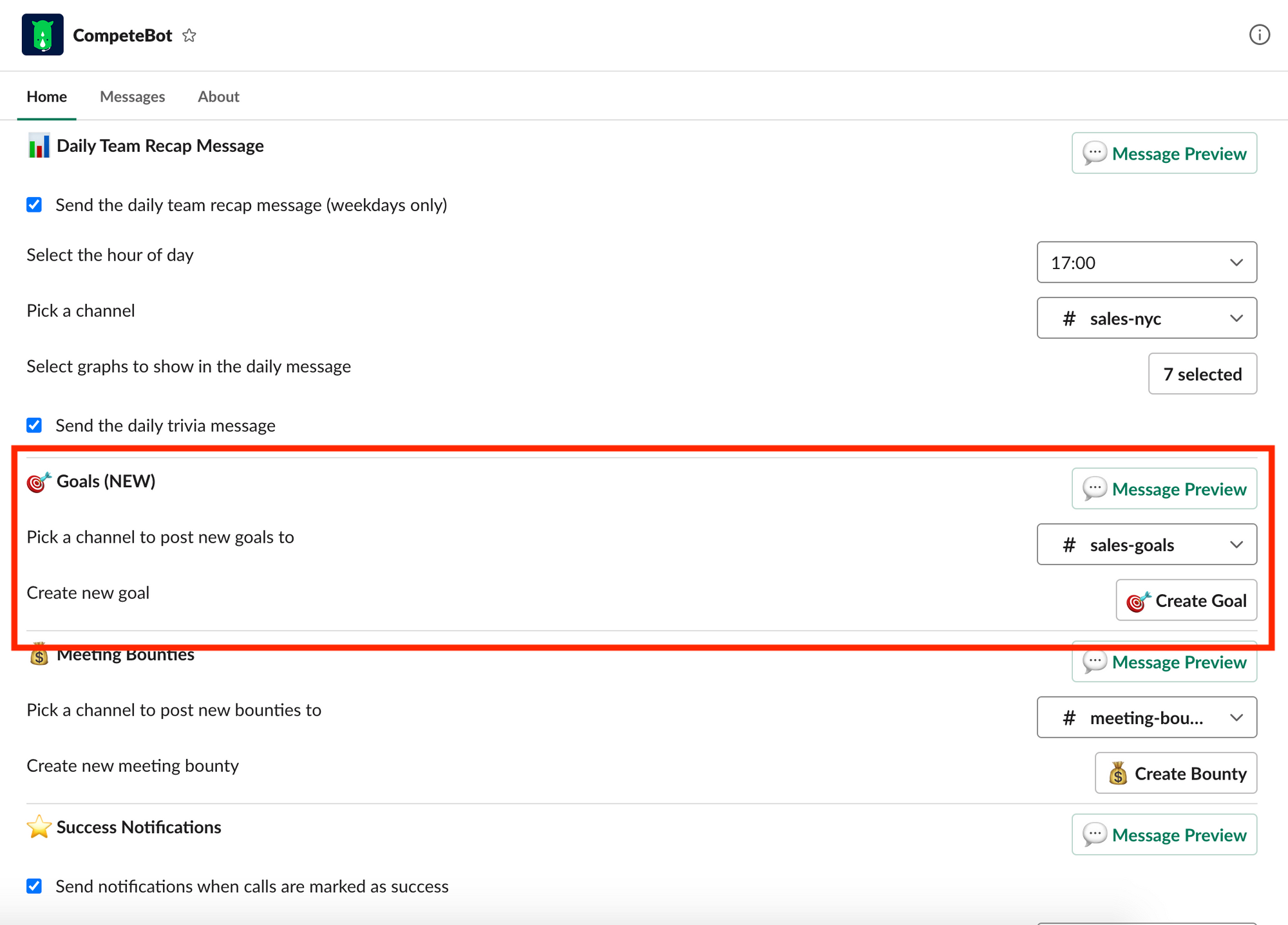 Metrics to choose from for your new goals include:
Meetings booked
Conversations held
Calls placed
Emails sent
Emails replied
A goal starts as soon as you create it. When a goal is won, the whole team (including you) will be notified in the Slack channel of your choosing:

If you have the daily recap message setup, you'll also be able to see the progress your team is making against each individual goal every morning.  
We hope you enjoy using the new goals feature as much as we enjoyed building it. In the near term we hope to bring recurring goals to life, as well as a few other improvements. If you have any additional ideas or suggestions for how to improve CompeteBot, as always, please drop us a note at support(at)salescompete.com!
What else is new?
We've also made an additional series of small improvements this past month to SalesCompete in an effort to continually improve the tool's ease of use and value to your team. Highlights include:
Fuzzy matching on trivia answers so that your team can enjoy trivia with less frustration
Showing right/wrong answers in trivia guesses
New charts in slash commands (screenshot below)
Alerts to admins when you've selected a private channel for CompeteBot to post to, but the bot is not yet invited to that channel
Voicemails were counting as 'answered calls' for our Outreach users. This has been corrected.